Colvin's death highlights risk of bearing witness to war - The Globe and Mail
sonia verma
Globe and Mail Update
Posted on Wednesday, February 22, 2012 1:14PM EST
On Tuesday, family and friends gathered in Beirut to bury Anthony Shadid, an award-winning journalist who died last week in Syria at the age of 43.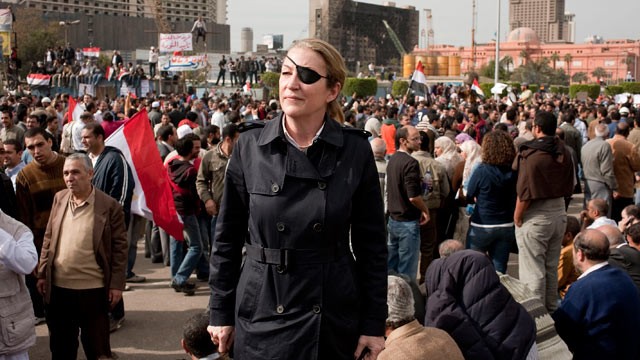 Less than twenty-four hours later we would learn of two more journalists killed. Marie Colvin, a veteran foreign correspondent from Britain's Sunday Times newspaper and Remi Ochlik, an award-winning photographer from France were killed in a mortar strike in Homs, Syria, Wednesday morning.
Their deaths highlight the continued suffering of the Syrian people and the dangers encountered by journalists seeking to cover the story.


Mr. Shadid collapsed and died from an apparent asthma attack on his way back to Turkey after a week of reporting covertly from the country. Ms. Colvin and Mr. Ochlik also entered Homs on a smuggling route, without permission from Syrian authorities.

"I entered Homs on a smugglers' route, which I promised not to reveal, climbing over walls in the dark and slipping into muddy trenches. Arriving in the darkened city in the early hours, I was met by a welcoming party keen for foreign journalists to reveal the city's plight to the world," she wrote in her last dispatch.

They were in a makeshift media house with a number of other foreign journalists when the building was struck.
Her final dispatch, about a "widow's basement" in Homs, describes in searing detail the hardships endured by those living in the besieged city, where food and medicine are running in short supply as the death toll climbs.
"It is a city of the cold and hungry, echoing to exploding shells and bursts of gunfire. There are no telephones and the electricity has been cut off. Few homes have diesel for the tin stoves they rely on for heat in the coldest winter that anyone can remember. Freezing rain fills potholes and snow drifts in through windows empty of glass. No shops are open, so families are sharing what they have with relatives and neighbours. Many of the dead and injured are those who risked foraging for food," she wrote

Ms. Colvin, 55, from Oyster Bay, New York, was largely unknown in America. In Britain, however, she was an absolute legend. All of her work was driven by the belief that the true value of journalism lies in bearing witness, in exposing the front-line suffering of hardline regimes and making the world care about people's plight.

"Throughout her long career she took risks to fulfill this goal, including being badly injured in Sri Lanka. Nothing seemed to deter her. But she was much more than a war reporter. She was a woman with a tremendous joie de vivre, full of humour and mischief and surrounded by a large circle of friends, all of whom feared the consequences of her bravery," Ms. Colvin's editor, John Witherow, said in a statement.

The foreign editor of the Times, Richard Beeston expressed his dismay on Twitter: "Terrible news about Marie Colvin. First worked with her in Beirut 85. Most courageous, glamorous foreign corr I have ever met. Tragic loss"

To meet Ms. Colvin on assignment was to understand her dedication to her craft. It was to be in awe. She lost her left eye covering the war in Sri Lanka in 2001 but preferred an eye patch to a prosthetic. She was tireless, obsessive in her quest to tease out every detail in an interview and question every assumption.

She was always a step ahead of everyone else, but always the first to help others catch up, generous with her contacts and advice on how to stay out of harm's way.


Ms. Colvin believed a journalist's job wasn't to take risks; rather, it was to tell the story. Inevitably, however, one would have to do the former to accomplish the latter.

When others questioned the judgment of journalists risking their lives to report wars, Ms. Colvin always argued why we must continue:

"Covering a war means going to places torn by chaos, destruction and death, and trying to bear witness. It means trying to find the truth in a sandstorm of propaganda when armies, tribes or terrorists clash. And yes, it means taking risks, not just for yourself but often for people who work closely with you," she said in an address in 2010 at a service to commemorate fallen colleagues.


"Despite all the videos you see from the Ministry of Defence or the Pentagon, and all the sanitized language describing smart bombs and pinpoint strikes, the scene on the ground has remained remarkably the same for hundreds of years. Craters. Burned houses. Mutilated bodies. Women weeping for children and husbands. Men for their wives, mothers for children… Our mission is to report these horrors of war with accuracy and without prejudice."


"Many of you here must have asked yourselves – or be asking yourselves now – is it worth the cost in lives, heartbreak, loss? Can we really make a difference?

"I faced that question when I was injured. In fact one paper ran a headline saying 'has Marie Colvin gone too far this time?' My answer then, and now, was that it is worth it."
Profile: Marie Colvin, intrepid and fearless war correspondent | Reuters
~ http://reut.rs/yZB7py ~

By Andrew Osborn
LONDON | Wed Feb 22, 2012 2:18pm EST

(Reuters) - Marie Colvin's final dispatch, published just three days before she and a French photographer were killed by shell and rocket fire, came from a bleak cellar packed with women and children cowering in the besieged Syrian city of Homs.

Relating the stories of those sheltering in what she called 'the widows' basement', Colvin explained how she had made her way to the pulverized city by crossing into Syria from Lebanon via a secret smugglers' route. The forces of President Bashar al-Assad had opened fire twice with machine guns and rocket propelled grenades on the car she used to get there, she said.

But the focus of her final article in Britain's Sunday Times newspaper was not her own fate but that of the Syrian people.

"The scale of the human tragedy in the city is immense," she wrote. "Everyone in the cellar has a similar story of hardship or death." On all the Syrian civilians' lips around her, she added, was the searing question: "Why have we been abandoned by the world?"

Born in Long Island, New York, in the mid 1950s, Colvin, was famous among her peers for her determination. A graduate of Yale University, she made it her cause to try to cover every war zone in the world during the last quarter of a century and, if possible, to get there first. She also had a reputation for exceptional bravery and for taking calculated risks.

Colvin began working for Britain's Sunday Times newspaper in 1985 and went on to brave conflicts from the Middle East to Chechnya, taking big risks to expose the often hard-to-get stories of atrocities, injustice, and human suffering that some of the world's bloodiest dictators would have preferred remained untold.

BLACK EYE PATCH

It was physically and psychologically bruising.

She was injured while reporting in the West Bank during the 1980s when a stone thrown through the window of a car hit her in the face and broke her nose. In Sri Lanka more than a decade later, a hand grenade that went off nearby left her without the use of her left eye.

Rather than get a prosthetic eye, she wore a piratical black eye patch over it. It was a decision that made her instantly recognizable in the world's war zones and the patch became a symbol of her courage.

Her friends say she was always superb company despite constant exposure to trauma around the world. She reveled in mischievous humor and reeling off incredible anecdotes.

"As the tributes to Marie pour in, you'll hear many amazing things about her," Mark Franchetti, a Sunday Times colleague who has known her since 1995, told Reuters. "They're all true. Not only was she truly the best and most fearless war reporter in British journalism of her generation, hands down, she was also a deeply special human being."

Colvin set out her philosophy of war reporting in a memorial service for journalists killed in conflict zones in 2010.

"Craters. Burned houses. Mutilated bodies. Women weeping for children and husbands. Our mission is to report these horrors of war with accuracy and without prejudice," she said.

She made it clear she knew the risks.

"We always have to ask ourselves whether the level of risk is worth the story," she told the audience at St Bride's, the journalists' church on London's Fleet Street. "What is bravery, and what is bravado?"

"In an age of 24-7 rolling news, blogs and twitter, we are on constant call wherever we are. But war reporting is still essentially the same - someone has to go there and see what is happening," she said.

A resident of West London, Colvin cut a glamorous and life-affirming figure, equally at ease mingling in London high society as she was hunkering down among refugees. Blessed with a rich contacts book that she often exploited to devastating journalistic effect, she was a doyenne of the small international war reporters' fraternity.

Her fearless approach won her a clutch of awards.

Among them was the Woman Journalist of the Year prize at the 2010 Foreign Press Association in London, which she won for a story headlined "Swift and Bloody: the Taliban's revenge."

She also won the Courage in Journalism award from the International Women's Media Foundation in 2000 for her behind-the lines work in Chechnya and Kosovo.

In one notable incident in Chechnya, she and a photographer found themselves trapped by Russian forces and pulled off a daring escape over the mountains to neighboring Georgia.

Before she entered Syria to write what would turn out to be her last story, she told a friend that she had an "ominous feeling" about the dangerous assignment.

A chorus of tributes honoring her poured in from around the world Wednesday. British Prime Minister David Cameron said her death was a sad reminder of the risks journalists take, Sunday Times editor John Witherow recalled that nothing ever seemed to deter Colvin, and Rupert Murdoch, her newspaper's proprietor, called her "one of the most outstanding foreign correspondents of her generation."

(Additional reporting by Estelle Shirbon; Editing by Peter Millership and Peter Graff)
~~

+++++++++++++++++++++++++++++++++++++++++
Bloglink~ http://peta-de-aztlan.blogspot.com/

Twitter Link~ http://twitter.com/Peta_de_Aztlan

Humane Liberation Party Portal
~ http://help-matrix.ning.com/
+++++++++++++++++++++++++++++++++++++++++